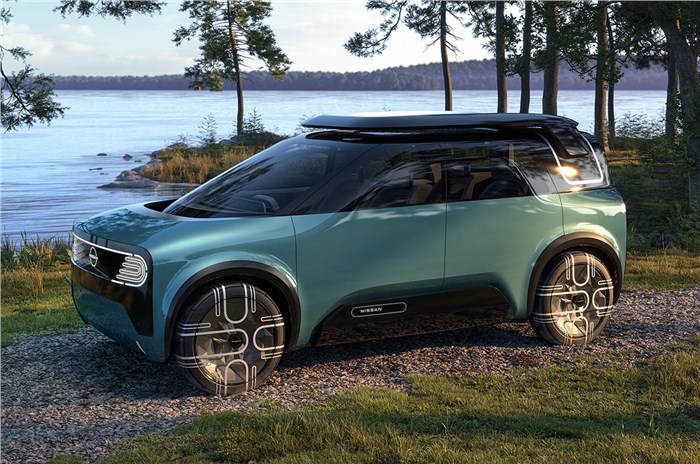 Carmaker eyes 50 percent electrification of global model range by fiscal year 2030
Nissan to launch 23 new electrified models by 2030
New models to be spread across Nissan and Infiniti brands
To invest over Rs 1.33 lakh crore over next five years
Nissan has revealed its new 'Nissan Ambition 2030' plan, its long-term vision which will see the carmaker roll out 23 new electrified models, including 15 new EVs, aiming for 50 percent electrification mix by 2030.
Nissan Max-Out concept
"The role of companies to address societal needs is increasingly heightened," Nissan CEO Makoto Uchida said. "With Nissan Ambition 2030, we will drive the new age of electrification, advance technologies to reduce carbon footprint and pursue new business opportunities. We want to transform Nissan to become a sustainable company that is truly needed by customers and society."
Nissan Hang-Out concept
Nissan to invest over Rs 1.33 lakh crore over next five years
Nissan is an EV pioneer, having launched the Leaf over 15 years ago, and placing electrification at the core of the company's long-term strategy. With Nissan Ambition 2030, it aims to accelerate the electrification of its vehicle line-up and rate of technology innovation with investments of 2 trillion yen (around Rs 1,33,000 crore) over the next five years.
Based on customer demands for a diverse range of exciting vehicles, Nissan's aim for an electrification mix of over 50 percent, will be split globally across the Nissan and Infiniti brands.
With the introduction of 20 new EV and e-POWER-equipped models in the next five years, Nissan intends to increase its electrification sales mix across major markets by fiscal year 2026, including:
• Europe by more than 75 percent of sales
• Japan by more than 55 percent of sales
• China by more than 40 percent of sales
• The United States by 40 percent of EV sales (in fiscal year 2030)
Representing the next stage of Nissan's electrified future, the company today also unveiled three new concept cars that offer enhanced experiences through sophisticated technology packaging. These concepts showcase the thrilling possibilities that Nissan strives to provide across a wide range of new advanced vehicles and ecosystems.
Increasing accessibility and innovation in mobility
Nissan says it will continue to evolve its lithium-ion battery technology and introduce cobalt-free technology to bring down the cost by 65 percent by 2028. The Japanese automaker also plans to launch an EV with its proprietary all-solid-state batteries (ASSB) the same year and ready a pilot plant in Yokohama as early as fiscal year 2024.
With the introduction of ASSB, Nissan will be able to expand its EV offerings across segments and offer more dynamic performance. By reducing charging time by a third, ASSBs will make EVs more efficient and accessible. Further, Nissan expects ASSB to bring the cost of battery packs down and aims to achieve cost parity between EV and gasoline vehicles in the future.
The carmaker seeks to establish a global battery supply system to meet growing customer vehicle demand. Working with its partners, Nissan intends to increase its global battery production capacity to 52GWh by fiscal year 2026 and 130GWh by fiscal year 2030.
Introduce advanced driver-assistance tech in more vehicles
Through Nissan Ambition 2030, the company also seeks to extend the benefits of mobility by delivering its advanced driver-assistance and intelligence technologies to more customers. The manufacturer also aims to expand ProPilot technology to over 2.5 million Nissan and INFINITI vehicles by fiscal year 2026. The company will further develop its autonomous vehicle technologies, aiming to incorporate next generation LIDAR systems on virtually every new model by the end of this decade.
In addition to technology upgrades, Nissan will localise manufacturing and sourcing to make EVs more competitive. Ensuring vehicle batteries remain sustainable will also continue to be a priority for Nissan and the company intends to expand its battery refurbishing facilities beyond Japan, with new locations in Europe during fiscal year 2022, and in the USA in fiscal year 2025.
Nissan's plans for India
Following the launch of the new Magnite compact SUV in the Indian market, Nissan has seen a  revival in sales in recent months. The carmaker recently completed 30,000 deliveries of its compact SUV with booking numbers having crossed 72,000 units.
It, however, remains to be seen what the carmaker plans to launch next in our market. Nissan's current line-up comprises the Kicks midsize SUV and the smaller Magnite.