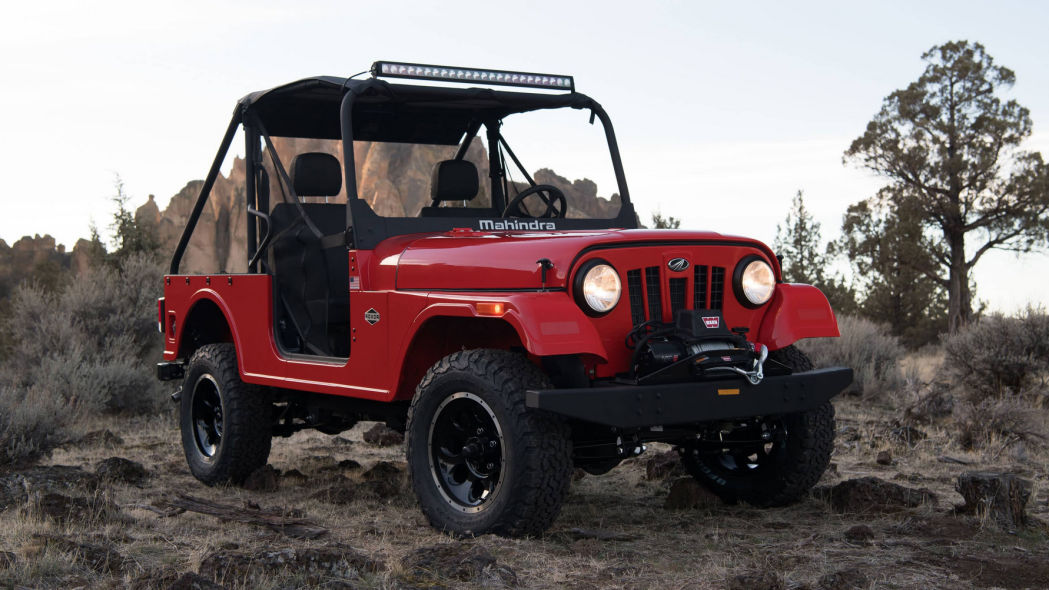 Unfortunately it's not street-legal
JOEL STOCKSDALEMar 3rd 2018 at 4:24PM
MORE PHOTOS
If you're the kind of person who feels the Jeep Wrangler has slowly become too big, heavy and soft over the years, Indian automaker Mahindra may have the perfect vehicle for you. It's called the Roxor, and it's basically a new, diesel powered Jeep CJ. It's even built in America, actually in Auburn Hills, the same city where Chrysler headquarters is. And before anyone starts griping about it being a ripoff, take note that Mahindra is one of many automakers that long ago was licensed to build Jeeps. Another company that struck a similar deal was Mitsubishi.
But let's get back to the Roxor. It's got a bare-bones steel body on a separate steel frame. All that is suspended on leaf springs at all four corners connected to solid front and rear axles. Under the hood is a 2.5-liter turbocharged diesel four-cylinder making a meager 62 horsepower, but a decent 144 pound-feet of torque for hauling the 3,000-pound SUV around. A five-speed manual should help drivers get the most out of the little diesel, and the low-range four-wheel-drive transfer case will help it get almost anywhere.
There is a catch to the Roxor, though: It's not street-legal. It's classified as an off-road recreational vehicle only, similar to many side-by-sides or UTVs. Mahindra has also limited the Roxor's top speed to 45 mph as a result. Still, it should be loads of fun on trails, over rocks, across sand dunes, anywhere the pavement ends. In the near future, it could be a great vehicle for getting around and taking care of large estates, since a frequently asked question about power takeoffs and dump beds has Mahindra saying such features will show up later. And even without those accessories, the Roxor can tow just shy of 3,500 pounds.
And a new Roxor can be yours for just over $15,000. That's not exactly cheap, especially for a vehicle that's not street legal, though other side-by-sides can range from about $9,000 to over $20,000 depending on performance and specifications. Not only that, it is a whole lot cheaper than a new Wrangler, which starts at $28,190. So if you want a cool little off-roader, but don't need it to be a daily driver, the Roxor is a cool way to go.
Related Video: