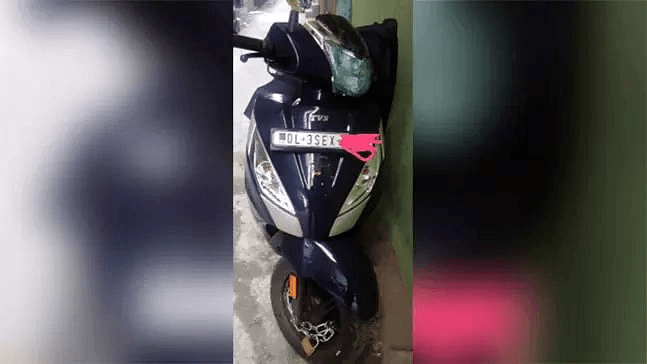 A girl from Delhi received a Scooty on her birthday as a gift from her father on 3 November but till then the Scooty is kept at home because of its number plate having the word SEX.
In a strange incident in Delhi, a girl named Mansi faces humiliation in her neighbourhood for her Scooty with the number plate bearing registration number that consists of the term SEX.
Mansi is a student studying fashion designing who had to travel from Janakpuri to Noida through Delhi Metro. She struggles to travel such long hours on a daily basis so she asked her father to buy her a two-wheeler and finally received a Scooty as a gift on her birthday on 3 November.
But her happiness soon turned into sadness and embarrassment because of the number plate of her new Scooty which reads the letters SEX on it. Her Scooty bearing registration number DL 3 SEX**** has become the reason for her getting bullied every time she rides it. She said that people around her started mocking her and the neighbourhood aunties called her shameless (besharam) for riding the Scooty with such a number.
Being unable to ride the Scooty Mansi and her father approached the seller of the Scooty from where they bought it. The father asked the seller to change the number plate but he rudely replied that this kind of number is common in many scooters and cars and Mansi is not a queen to receive a new one.
As the registration numbers are assigned by Regional Transport Officer (RTO), the seller of the Scooty can't do anything on this. Mansi's father also asked the dealer to change the number but he informed that it cannot be changed as it is generated online from the Indian car website by Sarai Kale Khan RTO.
Registration of the vehicle in the Regional Transport Office (RTO) is very important after buying it as the registration number provided becomes the identifier of the vehicle. Discussions on the registration numbers of vehicles are made on the Indian car forum and the Indian car community Team-BHP where complaints are also registered on the automotive scene in India.
RTO numbers are often mixed of letters and numbers and at present, in the state of Delhi, two letters 'E' and 'X' is much common in circulation and all the two-wheelers are given the letter 'S' therefore buyers will naturally face the problem as the number plate will have SEX on it.